For years now,
DJ Low Key
has held it down, as one of the most prolific professional Hip Hop DJ's in Colorado. His work ethic and professionalism is 1920's. The motherfucker is real tough.
And for years now, he has teamed up with
DJ Sounds Supreme
in an effort to create the perfect club night, one that nobody could ever accuse of being "fake" or "sell-out" or whatever all these DJ's think they need to do to get booked.
They set out on a mission to play the music they liked, to attract the people who liked the music they liked, and therefore attract the type of people they like. (what a concept right? ;-)
What happened was the
Best Hop Hop Party in Denver
and one that has been going strong now for years (not even sure how many? I think I remember a milk bar? Dancing strippers on Broadway?)
Do yourself a favor and reinvigorate your weekend by making a habit out of this Colorado Classic.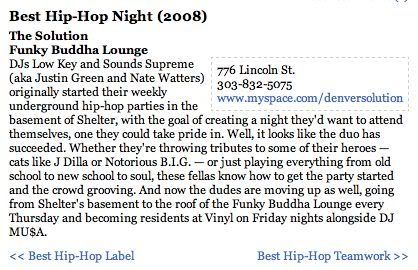 Hit us up @ thecoloradorapreport@gmail.com if you need help finding The Funky Buddha.