New LP from
Dent
, featuring rarities, b-sides, and some brand new material.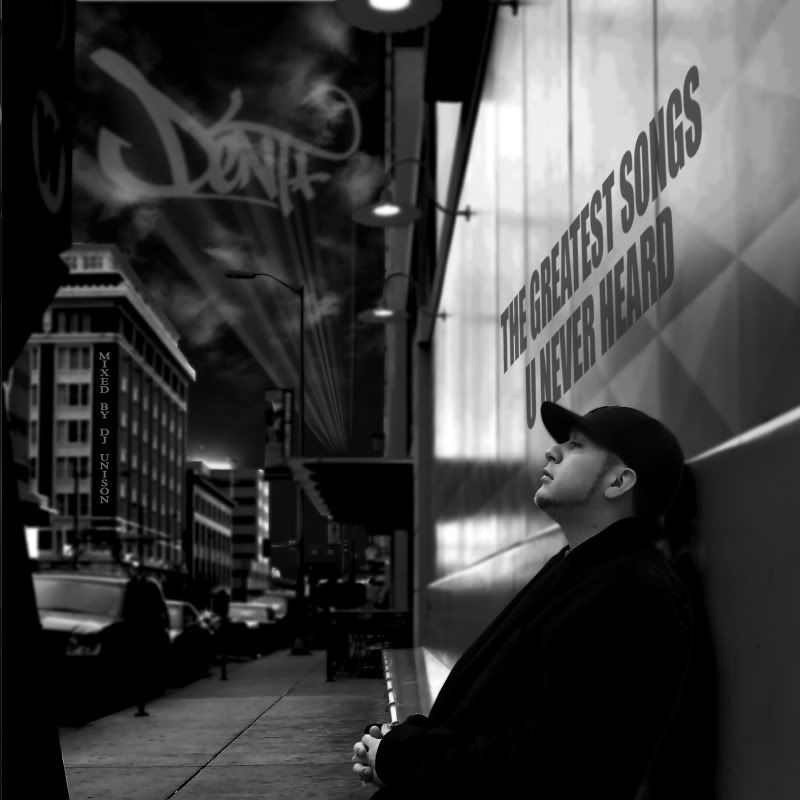 Press Play.
Dent ft. Phumes "Yo Love" (Produced by Ron Jullian)

Here are our thoughts on some of the standout tracks on this album.
GRIND MUSIC 09:
Sol Powa's
beat on this is ill. Dent's rap on this is, strange, like never really heard him fuck with that style. Its like drunken boxing as opposed to Dent's normal Karate.
ROCK ROCK Y'ALL
: Classic 2004 vibe, Dent playing his part as the lost member of The Procussions, w/
Stro
on the beat. Enough said.
YO LOVE:
Any song with Phumes is a gem to me... Hopefully we'll do a nice little Phumes feature soon on the Rap Report. Also cool to see "Sunshowers" being referenced here in its developmental stage. Because this song has got to be older than "Sunshowers", because its Dent & Phumes. Phumes kills it by the way, where is that dude?!?!
WHO I BE:
Another crazy style from Dent, kind of his Shady/Aftermath side? It works whatever it is, and who is Odetta? A lot of lost music on here for sure, this LP is turning out dope. And I don't usually support "B-Side Compilations", but this is almost like an LP.
TO THE TOP:
Ill beat from producer
Flawless
. The homie Hevy gets some shine on this, which is dope. Everyone comes correct and this beat is really nice, with a dope bassline and everything.
ALL THE REAL HEADZ:
Yo it starts out normal enough, but wait til you hear Dent, or should I say, EMIDENT!!! Wow, this is the Shady/Aftermath side of Dent full power, I was like, Where have I heard that before?? That's Eminem's flow!! But he pulls it off, and its a trip.
Overall this is very consistent, and captivating, with few dull moments. An attention keeper
through and through.
Bonus:
Dent "Grind Music 09" (Produced by Sol Powa)
Dent ft. Hevy "To The Top" (Produced by Flawless)